Program features :
Compatible with Mac computer (Mac OS)
Modern and powerful
Includes 5 Office programs
Full version, fully usable
---
Applications included in Office 2016:
Word 2016
Excel 2016
Powerpoint 2016
Outlook 2016
Compatible operating systems:
---
Office 2016 Standard for Mac: the best desktop software for macOS operating systems is now available.
Mac users can now use the Office 2016 Standard for Mac suite as well. In 2011, the most recent version was launched. The new suite has been renovated from the ground up. It comes with five programs and a number of standard features. Using Outlook and OneNote, you can quickly work on text, spreadsheets, and presentations, as well as create email and digital notes. The software is distinguished by its translucent tape and its extremely pleasant appearance, in addition to its strong features.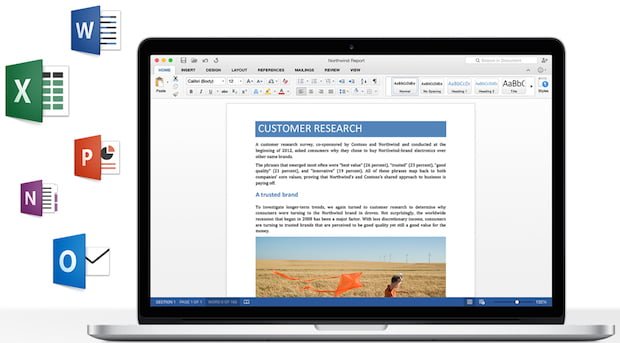 The office suite is crisp and accurate in the way that Mac users are accustomed to. Individual details have been improved as a result of the support for Retina displays. Users are given a colored surface that varies in color depending on the program. Of course, in the traditional display settings, this property can be altered.
With OneDrive, you can access your data from anywhere.
Mac users can also take advantage of storing their documents, spreadsheets, and other files in the cloud. Microsoft's OneDrive media is online storage accessible worldwide. Thus, it is also possible to open documents on multiple devices, from a mobile device, for example.
Office 2016 for Mac takes a big step forward and is particularly suitable for collaborating on teams from small to large.
Word 2016: Texts are created and edited quickly and easily and are formatted into a modern document. Many useful functions are available through the tab.
Excel 2016 : Excel is still the most powerful spreadsheet software. Its tools and formulas make it easy to create professional spreadsheets that can perform segments and analyzes.
PowerPoint 2016: Create professional presentations and present them directly. This tool is ideally suited for designing conferences and seminars where even motion graphics, videos, and sound files are integrated.
Outlook 2016: In everyday life, it's easy to lose direction and forget something. Outlook supports you efficiently and manages emails, appointments, contacts, and notes. So you can master even the most important tasks without sinking into chaos.
OneNote 2016: Collect your thoughts and ideas in a digital notebook. OneNote is not only clear, your notes can also be shared directly with other people
Office 2016 Standard for Mac available for instant download with product key
Enjoy the world's most powerful office software on your macOS! Office 2016 Standard for Mac is instantykeys.com Immediately after the transaction, the download begins, including the product key, and the installation can begin.